In this episode we're joined by Julie Cross – mother, entertainer and most of all an amazing storyteller. Julie is one of Australia's most sought after presenters and caused something of a social media stir recently with her 'bikini post' on Facebook that scored 143,000 likes in just 24 hours and a reach of over 3.5 million!
More than anything, Julie will share with you why a positive mindset and strong self belief are some of the key ingredients to not only a successful business, but a successful and fulfilling life as well. Julie shares her own personal story of nursing her husband for 4 years after he had a stroke, losing him just 6 years ago and how her son's diagnosis with autism around the same time shook her resilience.
Grab a notepad and pen (and maybe a box of tissues) as Julie entertains us, moves us and above all inspires us to take responsibility for the way we all think and feel.
Oh, and here's the pic of Julie in her black bikini…as promised!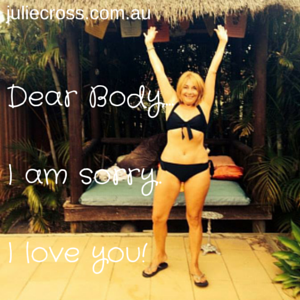 Links and resources mentioned in the show:
Julie Cross – Empowering, Energising, Entertaning
Tradies Business Toolkit – Your Guide to a True Tradie Business Phone 1300 227 606
Tradies VA – specialised virtual receptionist, admin and marketing support Phone 1300 164 072
Thanks for listening to our podcast, and if you enjoyed it…
Please leave a rating and review on iTunes, we read every single one and will be selecting some to read out on the show so keep an ear out for your name!  Please also share this podcast with your fellow tradies, friends and family. By helping to spread the word we can help more tradies get off the tools and into a lifestyle they deserve.
Thanks so much, and we'll see you in the next episode of the Tradies Business Show Podcast!